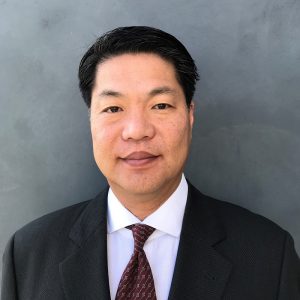 David Kim
Senior Managing Director
Over 25 years of experience in corporate finance, executive management, real estate finance and accounting, project finance, strategic planning, business development, and government affairs. He has unique and extensive experience in the public pension fund industry, institutional alternative investments, institutional portfolio management and capital markets, derivatives trading, and corporate governance as well as extensive experience in venture consulting & management, mergers & acquisitions advisory, and legal coordination and support.
Included in his experience is over seven years serving as a trustee of a major US public pension fund and its (peak assets approx. US$15 billion) globally diversified investment portfolio. He served as a member of its Real Estate Committee overseeing a portfolio of approximately US$800 million, and as Chairman of the fund's International & Fixed Income Committee (approx. US$4 billion). He was instrumental in the creation of the fund's first Alternative Investments program (private equity & venture capital; building it from zero to over $700 million in assets). His international finance and project management experience includes FMS, Exim Bank, and IBRD (World Bank) financed projects. Current California Real Estate License holder.
Past member of the Council of Institutional Investors, International Foundation of Employee Benefits, and International Advisory Board of a US$500 million pan-Asian investment fund.
Former IOM member – Chicago Mercantile Exchange Former Associate member – Chicago Board of Trade.
Past Certifications: SEC Registered Investment Advisor, CFTC registered principal (market maker), California Real Estate Broker, California General Contractor.
Masters in Business Administration (MBA) – Pepperdine University (1986) Bachelor of Arts (Economics) – University of California at Los Angeles (UCLA, 1983)